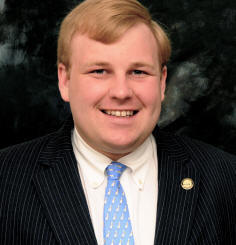 Walker Hines was born and raised in Uptown New Orleans. In 2007, at the age of 23, Hines defeated seven opponents to earn a seat in the Louisiana House of Representatives, representing District 95 - New Orleans. Hines is the second youngest member to ever serve in the Louisiana Legislature. As of 2010, Hines remains the youngest member of the Louisiana Legislature.

As a member of the Louisiana House of Representatives, Hines serves on the Judiciary, Civil Law and Procedure, Health and Welfare, Joint Highway Priority Construction on Transportation, and the House and Joint Homeland Security Committees.

After completing his first year in the Legislature, Hines was voted 3rd "Best Legislator" by readers of The Gambit, the largest weekly newspaper in Louisiana. He trailed only U.S. Senator Mary Landrieu and a colleague in the House of Representatives.

In 2009, Hines became the first elected official in the United States to pitch legislation he authored prior to the 2009 Legislative Session on Policy Pitch, an innovative, online forum that allows ordinary citizens to pitch new policy ideas at the local and state level, collaborate with others to refine and promote their policies, and transform that online communication into real world action. His bill was quickly elevated to the most popular policy pitch, receiving over a thousand views in the first week, and maintained that position for several months.

Walker Hines is a member of the American Legislative Exchange Council, a nonpartisan association for conservative state lawmakers who share a common belief in limited government, free markets, federalism, and individual liberty.

Hines is also a member of the National Conference of State Legislatures (NCSL). Hines was appointed by the Speaker of the House to serve on the Abraham Lincoln Bicentennial Commission, dedicated to preserving Lincoln's legacy in the classrooms. He was also appointed to serve on the Louisiana Information Technology Advisory Board and Legislative Youth Advisory Council.

In 2009, Hines was appointed to represent Louisiana as a member of the Human Services and Welfare Committee of the National Conference of State Legislatures. As a member of a national legislative committee, Hines attends three meetings per year, exchanging ideas with legislative leaders from other states. The committee is responsible for studying best practices in child care, child welfare, LIHEAP, TANF, SSI, income security, food and nutrition, immigration, and faith-based initiatives.

Hines serves as a member of the Board of Directors of the Early Childhood and Family Learning Foundation.

Hines is a member of America's Wetland Foundation, dedicated to reversing Southern Louisiana's eroding coastline. In 2009, Hines served as an Honorary Co-Chairman of Storm Warning: Last Stand for America's Wetland.

Hines' many charitable donations include: American Cancer Society, Patron of the Meals on Wheels Program, University of New Orleans Foundation, Food For The Poor, Trinity Christian Community, Harrell Park Boosters, Contemporary Arts Center, New Orleans Film Society, Jewish Family Services, New Orleans Sports School, Mia Heart Foundation, WYES Public Television, Southern Christian Leadership Conference (SCLC), Bridge House, March of Dimes, Hollygrove Farmers Market, Leonidas House, UNITY of Greater New Orleans, Victims and Citizens Against Crime, Early Childhood and Family Learning Foundation, Dress For Success, Gerttown Community Development Center, Warren Easton Charter Foundation, Audubon Institute, Colin Goodier Medical Scholarship Fund, Louisiana Retired Teachers Association, and Oak Street Association.

Hines has been honored as the Career Day Speaker at Trinity Episcopal School, Career Day Law and Government Panel at Country Day School, a Presenter at the Legislative Youth Advisory Council, a Panel Participant at the Greater New Orleans Republicans Reception, and Speaker to Distinguished Russian Guests at the Citizen's Diplomacy Council.

Hines has lectured in Tulane Undergraduate Political Science classes and served on distinguished guest panels at the Tulane University Law School.

Hines has been a frequent guest on various talk radio stations throughout the State. He has also appeared in studio for live interviews with WWL, WDSU, Ringside Politics, PBS, Louisiana Newsmakers with Alan Katz, and other media outlets.

Hines enjoys public speaking on a wide range of issues. His interests, knowledge, and speaking style appeal to a diverse audience.

Hines previous employment includes working in Television Production at Warner Bros. in Burbank, California; Staff Assistant to Congressman Chris John (D-LA) in Washington, D.C.; Production Assistant for CBS News in New York City; Research Assistant at the Inner Consortium for Political and Social Research at the University of Michigan; and Analyst at The Cypress Group, LLC in Washington D.C.

Hines is employed by Capital Investment Management, Inc., a New Orleans-based holding company for real estate and venture capital investments.

Hines is also an Advisory Board Member of Enhanced Capital Partners, a national investment firm, specializing in investments in small and mid-size companies.

Hines graduated from Metairie Park Country Day School, where he was elected as President of the Student Government. He earned a bachelor's degree from The University of Michigan-Ann Arbor, where he was accepted into the National Scholars Honor Society. In 2010, he graduated from the Senior Executives in State and Local Government Program at Harvardís John F. Kennedy School of Government.

Hines, a practicing Roman Catholic, frequents many Churches of all denominations.

Walker Hines is the son of Mary and Bill Hines.
Join the Campaign
Get the latest updates from Walker